To drive a career in Software Testing, we look for the most valuable skills and knowledge to acquire. Following the 'T-shaped' concept can be useful in helping us to make the right choices for our future.
As ours careers move forward, most of us wonder at some time where we should apply our effort next, and what skills and knowledge will bring the most value to our job, career and, ultimately, our daily life. There are several concepts that can be used to describe a person's career strategy, two of which are known as I-shaped and T-shaped.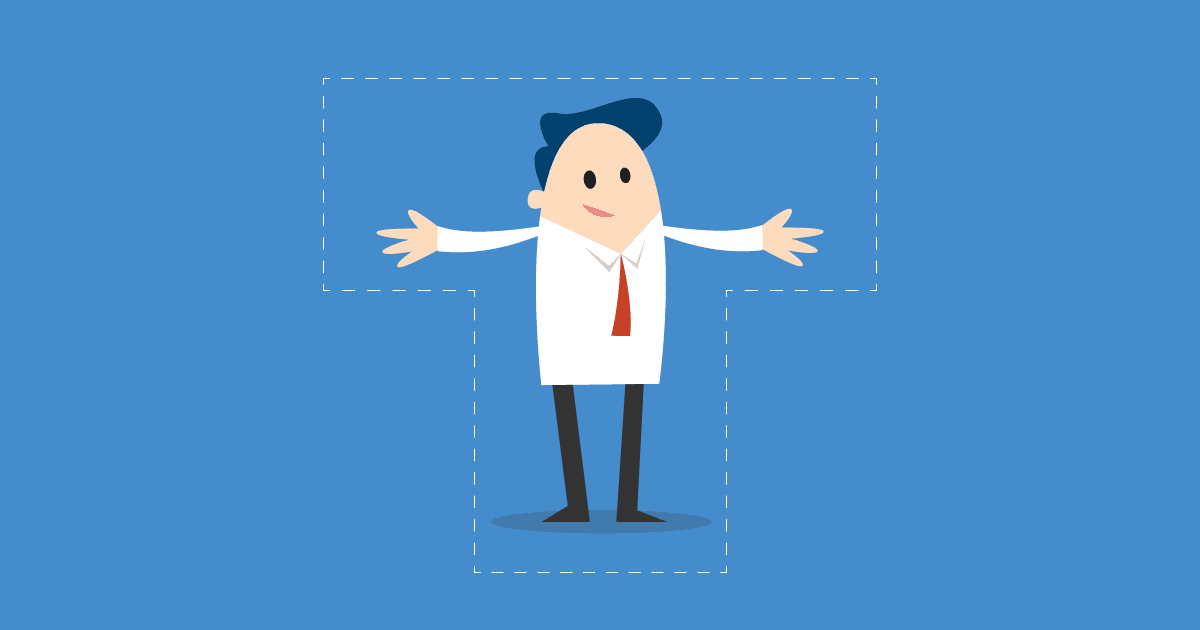 One way to develop your career is to specialize by going deeper in a single specific discipline or niche. These kinds of specialists are regarded in theory as being I-shaped, which means that their skills are seen as being narrow but deep. However, in a fast-paced world, this strategy has evident risks, such as if the area of specialization becomes outdated or unpopular.
Another way, is to combine deep expertise in one discipline with a broad and general knowledge, so becoming a so-called T-shaped person. The vertical line of 'T' represents deep skills in a certain field, and the horizontal line stands for the ability to apply knowledge (and collaborate with experts) from other disciplines. (The term 'T-shaped' is considered to have been first used by David Guest in 1991 and was later was popularized by Tim Brown, CEO of the IDEO design consultancy).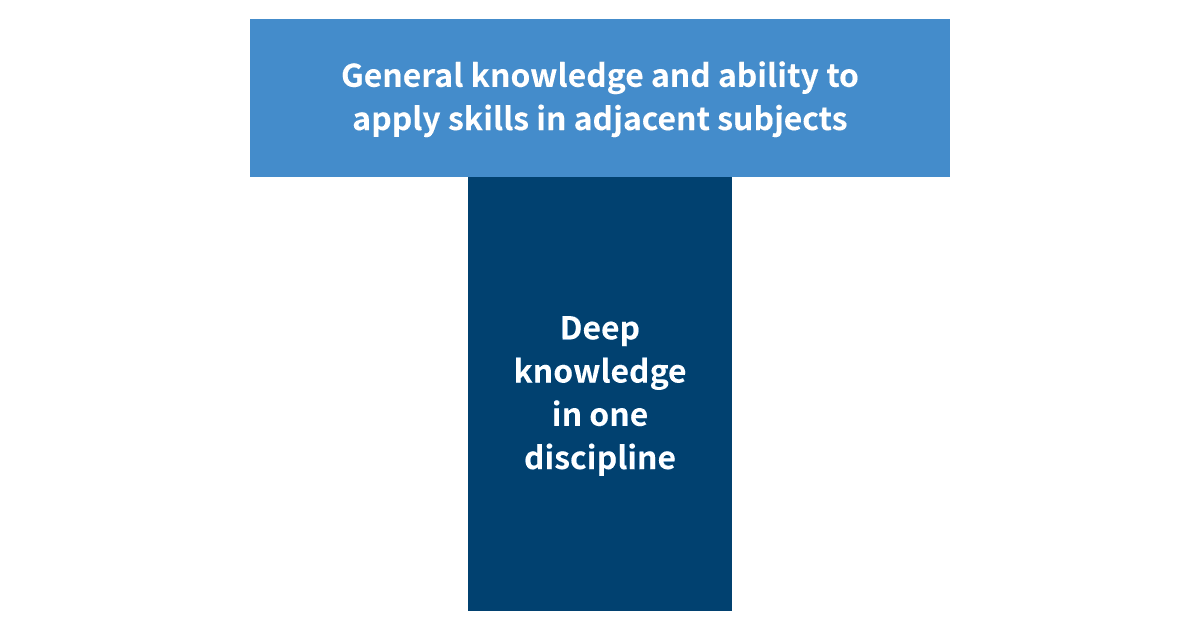 T-shaped people are far more flexible, and more able to easily catch on to new trends, but are not as substantial in each adjacent discipline as in their primary skill, for two reasons. First, it's obvious that deep studying of any question requires corresponding time and effort. Secondly, contrary to the I-shaped, the T-shaped specialist tend to get the general picture rather than immerce themself in details, unless it's really needed. Each of these types will be better suited to certain work situations and different methods of working.
Comparison
Let's compare the different aspects of each:
| | | |
| --- | --- | --- |
| Criteria | I-shaped | T-shaped |
| Definition | Deep specialization | Broad vision with a deeper expertise in one field |
| Specifics | Can be over-skilled for their job and have difficulties with general tasks | Can do different adjacent tasks but be somewhat under-skilled in the primary discipline |
| Suitable Domain | Manufacturing and construction industries | Startups, highly changeable environment |
| Suitable Methodology | Waterfall | Agile |
Related concepts and ideas
In addition to I- and T-shaped concepts, you can find other descriptive variations that have emerged recently, the most common of which are:
π-shaped – two legs of key skills connected with the dash of general knowledge
M-shaped – three key deep skills
X-shaped – deep expertise in one field combined with ability to lead diverse teams
Y-shaped – broad funnel, through which a person filters and transforms every piece of information to be applied to their primary skill
E-shaped – ability to execute, or representation of the 4 E's – Experience, Expertise, Exploration and Execution
T-shaped skill set in Software Testing
While in previous decades there was a demand for I-shaped testers, there is now a growing opportunity for T-shaped specialists because those who have deep skill in one discipline and general knowledge, helps them to adapt to the changing environment. In the agile world, the T-shaped tester can be presented as a team member whose key expertise is testing but who can also master other functions, for example, those that lie in the fields of Programming or Business Analysis.
As an example, we can look at Google where there is no dedicated testing organization, and a specialist with primary Testing expertise is responsible for control and direction of the testing efforts of other team members (usually developers).
So, in relation to T-shaped or π-shaped, we should look for the skills that can potentially boost our profile. For a Software Tester, good options would be:
Niche Testing: Performance, Usability, Penetration testing etc.
Other Software Development specialties: Business Analysis, Programming, Project Management, System Engineering, Technical Writing etc.
Domain knowledge: Medicine, Insurance, Banking, IoT etc.
Other outside disciplines: Psychology, Teaching, Public Speaking, Copywriting etc.
Another separate area that is always helpful to develop is Soft Skills. They have a positive impact on personal effectiveness, leadership and collaboration with others, and are valued virtually everywhere, regardless of the type of industry, project or methodology.
Speaking of T- or π-shaped, we should also be aware of the proportions between 'horizontal' and 'vertical' aspects in the skill set. Depending on the environment, the need in each family of skills can differ. Those who have very deep and narrow expertise in the field can become over-skilled, as employers don't tend to pay for skills they don''t need. Those who have broader skills can feel the lack of expertise in their key discipline at some point and will need to catch up on it in the short term if required.
Conclusion
For each of us who strive to drive their own career, it is extremely important to define our individual direction of growth and development. Not forgetting the T-shaped concept, base your choice on your own strengths and passions, and take into account environment, trends in the industry and the current demands of the job market. In addition, reviewing your Career Development Plan on a regular basis and discussing it with your manager will help you to always stay on top, optimize your work-life balance and get the best value out of the work you do.