We often think of job networking as taking place in a particular kind of way - but what if you were to approach it completely differently...? In this post, Steve reflects on three different (and perhaps unusual) approaches to networking for a graduate job that he's seen over the years, which all seemed to work surprisingly well...
Disclaimer: This post was first published on another website in 2015, as a guest post on behalf of a recruitment agency. However, that site is now no longer live, and the recruitment agency (which is now closed/retired) has given permission to ST.C to republish it here instead. The original post's advice was quite general (i.e. non-industry-specific), however there's now a (new) section at the end tying it into the world of software testing, as well as COVID-related advice.
Job searching. We look on job boards, we sign up with recruitment agencies, we look at the websites – and Careers sections – of potential employers, we ask around and ask our friends or industry peers…
Genuinely though, I believe that networking for a job is a heavily underused tactic.
I'm serious! When I do see people give it a go, it seems like their overall chances of securing a job improve significantly.
What types of networking do I mean? It could be the way that you 'sell' yourself online (as well as how and where to do it), or by going to particular events (and different kinds of events – whether they be online or in person).
Want to learn more? You're in luck! Below I outline a few different ways that networking might be able to help you to find a new job – and they're even backed-up with real-world examples…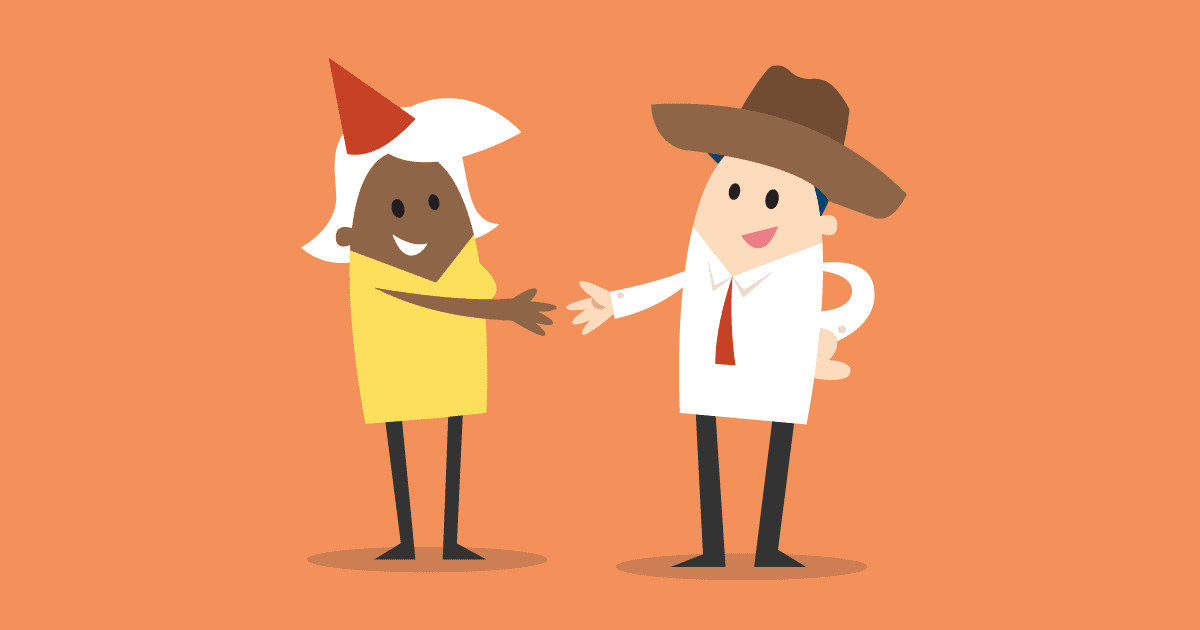 Three Unusual Job Networking Approaches
1. Industry Networking Events (e.g. Informal Meetups)
Let's begin with one of the event-related examples I mentioned.
Now I'll talk about more 'traditional' business networking later (point #3 below), whereby you go to business networking events. However for now, I want to talk about how it's possible to meet good people at less formal events related to your industry.
To give an example, in Cardiff (where I'm based), there have been recurring (often monthly) meetups for software developers, designers, digital marketers, and so on – just to mention a few varieties. They tend to be a fair bit more informal than your more standard business networking events, as they're often intended as an opportunity to learn more about your line of work, with speakers giving talks that give advice to the event's audience.
The mighty @owainlewis and @jrcryer giving us an overview of how they use AWS at the BBC – great stuff! pic.twitter.com/klOZqAks70

— unified.diff (@UnifiedDiff) November 20, 2014
I have a friend who is a software developer (let's call him "Bob"). Bob was looking for a new job, as one does. Over a number of months, Bob attended a software development meetup, and got to know – and made friends with – other developers who went along (although understandably he was careful about how he went about this, as he wanted to avoid his boss from finding out that he was looking for another job).
Eventually, one of the meetup's other regular attendees (let's call her "Sally") was able to help Bob to land a job elsewhere, where Sally worked. At that point the job hadn't been widely publicised because Sally's employer had been looking to either recruit internally or for their employees to recommend suitable candidates to them – which ended up working out well for Bob.
So it might be an idea to go along to an industry meetup sometime – even if it's just online (via Zoom) rather than face-to-face and in person. As you just never know who you could end up getting to know…
2. Social Media Networking
Next up: networking on social media!
And I can't not mention this one – in my opinion it was a really good example of job networking via social media. And so simple, too.
You can view it for yourself on Facebook (a quick note: it's a public post, so you shouldn't need to login – or even need a Facebook account – in order to read it for yourself). Or there's a screenshot below (which you can click to enlarge):
The post's author – Joel – was a gardener, but he was also getting near the end of a Computer Science degree. He took the initiative to ask the online community known as Cardiff Start on Facebook (a group of startup founders and entrepreneurs in Cardiff/South Wales) if anyone was aware of any available jobs that may be suitable for him.
The replies he got back were incredible: five people asked if he could pass on his contact information; two of them asked him if he wanted to host 'code clubs' for children who were learning how to code; one person let him know about a suitable job; another suggested that he should think about a freelance career as well/instead; and one individual recommended that he look into his university's career service.
A rather fab reaction from a group of complete strangers – none of whom had anything to gain by helping him. All Joel had to do was take the time and effort to ask. To his credit though, by taking the time to post on this Facebook group, he had taken the initiative to approach and ask the right people. If he'd just asked around his friends (for example), he might have found that people were unable to help him, but instead took a different approach and asked a bunch of entrepreneurs if they could help him. A smart move.
3. Business Networking Events
I've saved the 'strangest' one for last. I say 'strangest' because ironically, when we think of networking, we often think of these types of events. But compared to the other two examples above, this one feels like the most unusual – even if it does feel like it took place in the right setting…
Business networking events are what can be considered more 'traditional' networking events – examples include the likes of 4N, BNI, and so on. At these types of places, owners of small businesses typically meet up once per week in order to give referrals to each other, and therefore – by doing so – hope to gain new clients/customers as a result.
First #BNI meeting of the day 😀 pic.twitter.com/HefAjd6jRP

— Gavin Hill-John (@GavinHillJohn) June 12, 2020
Ordinarily, I wouldn't suggest going to events like these if you're job-hunting – as more often than not, it's not really somewhere that you would necessarily expect to see students or graduates actually networking. But…
I was once a member of one of the BNI chapters in Cardiff. One day, a fellow member brought along and introduced a friend of theirs, who was visiting that week as a one-off. Usually, visitors to BNI groups are also owners of small businesses (just like the rest of us who attend), who are there because they're interested in networking for new business. This time though, when it was the member's turn to welcome and introduce his visitor to everyone, he stood up and said to us: "This is Sanjay, he came with me today to learn all about BNI, and because he is also trying to find his first IT job." Now, he didn't mean to imply that he hoped for us other members to hire Sanjay ourselves (in our businesses), but his goal was to see if we knew of anyone who was hiring at the moment, or even just someone who he could direct Sanjay to.
Initially, I thought that this approach was most peculiar… It's definitely something that doesn't usually happen at a BNI meeting – and in fact it's something that I've only ever seen done this once, despite the fact that I've been a member of two separate chapters spanning two years in total. But one might say that its peculiarity was in fact a very good thing, because after all – it helped Sanjay's chances to stand out and be noticed as a job candidate.
To be truthful, I can't say that I know of Sanjay's fate after that meeting… But be that as it may, that day he met c. 30 owners of South Wales businesses, and a bunch of them took the time to speak to him afterwards – and they might have then made the effort to keep in touch with him as well. Additionally, it had given people the opportunity to meet and speak to a potential employee in person and face-to-face – giving Sanjay a distinct advantage over the more traditional ('faceless') CV, where employers and would-be employees typically only meet once a job interview has been arranged.
Sanjay: if you're reading this, I hope it all worked out for you. I really do.
But What About for Software Testing Jobseekers?
So, I'll admit that a lot of the above advice is not industry-specific. But this site is a software testing careers resource!
Well, in terms of #1 (industry networking events / informal meetups), there's software testing meetups out there for sure, which are a no-brainer (e.g. we have one in Cardiff). However, the example I gave above was a web and software development meetup, and I'd argue that it'd make sense to go to that type of meetup too – what with the close relationship between software development and software testing. In fact, going to other semi-related meetups could prove fruitful as well: what about design and UX meetups? Or more general entreprenurship or startup meetups?
In fact, if you network in entreprenurship/startup groups and forums (#2) or go to business networking events (#3), you'll be meeting and liaising with people who run businesses and startups, which is a good way to meet people who might be able to help you. And if they don't have any openings for a software tester in their organisations, they might know someone else who does…
And What About in Times of COVID?
This post was originally published in 2015 – a good few years before COVID-19 reared its ugly head and forced us to undergo a global pandemic. Admittedly, things are a lot different now, and back then it was much easier for me to say: "go out to an event and meet people face-to-face!" because things were a lot less complicated then, haha…!
#2 is all about networking online, so that one doesn't need to change. But can you still do #1 and #3? Of course you can! While some events have been returning to face-to-face events – just like in the pre-pandemic days – many have pivoted online, or have adopted a hybrid approach (e.g. it's in person but also streamed live and/or videoed for watching back later). While I personally feel that networking in person is much more worthwhile and that you're likely to get much more out of it, online networking has essentially taken its place – and it's more than fine to do that as well or instead. And hey, let's face it – online-only networking cuts down on travel costs anyhow!